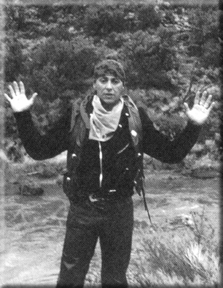 Okay Bikers, Rockers, Boys and Girls, Men Women and Children gather around and let me ask you a question.How many of you out there can say that you ride killer Harley's, play drums for Ozzy Osbourne and have Whooped Cancers ASS!!! Aha the numbers have thinned out a bit now haven't they?
Well let me introduce you to THE man that can say all that and more. Randy Castillo meet the Best people and fans in the world, Crossroads Readers, Fellow Readers, Randy Castillo.
Randy's been riding now for 21 years and he's been pounding the thin skins now for. ...Well for x-amount of decades, and playing drums for just as long. His story is amazing and it's an inspiration that after all he's been through he's still playing killer rock and roll and as of late there has been some talk about going out on the road with Ozzy again. MAYBE.
You know how the schoolyard is, you may have heard that he had cancer and was all done. Well part of that is true, he just had a long fight with cancer, but he's anything but done. Hell he's just getting started! When you're a biker & a rocker it takes a heap more than cancer to park you. Let's start with what we care about - Scoots. He got his first bike at the tender age of 8 years old a Big Twin - well it was a big twin at heart and when you're 8 it's cool no matter if it's a Harley or a Cushman, witch it was. But by that time he had been playing drums for two years and his career was well under way, both biking and drumming. He did what most of us do with bikes, jump from Rice to some British iron and some crap that ain't even around anymore, anyone remember Hodaka? All this horseing around came to an end in 1978 when he stepped on to the King of scoots - Harley Davidson. A Shovel Chopper Rat but it was all H-D. He's been on Harleys every since.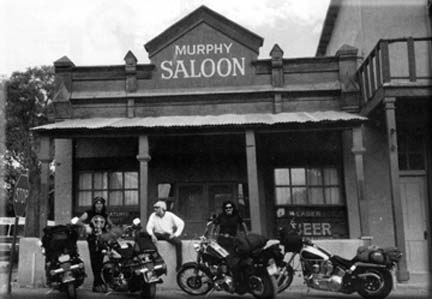 I know this part of the story is not all that unfamiliar to many of us but it hit Randy TWICE! Now that sucks - He had a killer 1988 Softail fully loaded. I mean all the bells and whistles the list of goodies would read like a who's who in the parts world. Well hell he's a Rock Star so you KNOW it was bad! And it was ripped while he was at a club in Hollywood! So what do you do? Get another one. And it's going to be bigger, badder, and better than the last one so he goes with an 89 Heritage - converted into a low-riding Outlaw, with 115 ci S&S mill with everything a Rock Star with a fat insurance check and a handful of extra dough and one of the best mechanics in Los Angeles can build.
Randy was able to hang onto it longer than the first one though. He kept it in Contos's garage while on tour but after the first chance some A-hole got it was Ripped from Randy's place! SON OF ... Ain't that a Bitch!
Then he got caught up working on a new Ozzy album and held off on building a freshie. Maybe you've heard of the record, "No More Tears", Ozzy's biggest selling album.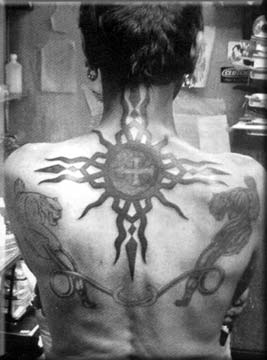 Oh what's that you say you want more music history and Information...? Okay, it reads like this...He's been the drummer and music CO-writer for Ozzy Osbourne for ten years.He's laid down the beats on Ultimate Sin, No Rest For The Wicked, Don't Blame Me, Just Say Ozzy, Live And Loud, as well as playing with Motley Crue - How did that go down? Well... In April of '99 Randy received a call from Sharon Osbourne. She told him that Motley Crue was looking for a new drummer and that he should call Nikki (Sixx). After a pleasant chat he was part of the Crew it was just that easy. But when your body of work is like Randy's... It's like Bill Gates asking for a job at a computer store - it's done without a second thought.
Then it hit...Cancer. A lump on his neck started to grow, and it got huge.They pulled it out and it was the big C. They got all the nasty out and started him on Chemotherapy and Radiation. That was hard to watch him go through. It's just brutal on the body and it's damn near as bad as cancer itself but if you make it through that, hell dog you can make it through anything. And Randy did. It took all of 2000 but today he's cancer free and 100 % healthy again. One thing about being a Rock Star I noticed; you may feel like crap and look like hell but the Babes still come regularly. Randy? Girls, Girls, Girls with goodies everything a boy could want. The best part of this whole ugly thing called cancer? It gave him a chance to find a new outlet for his artistic side. He started painting and sketching and like his music it ROCKS this boy can paint. Randy has the most incredible collection and if you have to have an original Castillo you can get one... bring your wallet though.
If you would like to see it and be the first on your block to have one hanging in your crib just go to http://www.fcukingcontagious.net and find one you like, but hurry they don't stay around for long. Randy is always painting but that will slow down now that he's back behind the drums again. He's working hard writing & recording with Mike Inez of Ozzy & Alice 'n Chains fame on a new as yet to be named band. Mike's got a studio up in the mountains near Los Angeles & they have been wood shedding and coming out with some amazing stuff if I do say so myself. What about a bike? He's building an insane scoot as we speak and you can bet that it's going to be bad, think about it, a Rock Star with a new respect for life and he's been out of the wind for way too long. And when it's done, you will be the first to see it. Just keep watching for it at the Crossroads.