Britney Forgives and Forgets?

by Lia Haberman
Apr 17, 2003, 9:30 AM PT


Britney Spears isn't one to hold a grudge.

The pop princess' request for a restraining order against one overly amorous fan, who allegedly stalked her and tried to bust into her Hollywood home, has been dropped, according to a Los Angeles court spokeswoman.

After a brief January court sit-down, the slave-4-Spears case, which has since been postponed twice, was scheduled for a hearing Friday at the Los Angeles Superior Court.

Now, Spears' attorneys are expected to file papers on Friday seeking to have the case dismissed. Details of the out-of-court settlement are not being disclosed.

Last month, attorneys for the 21-year old and Masahiko Shizawa, the Japanese native who sent the singer love notes inscribed "I'm chasing you," were in "serious discussions" to resolve the matter before the hearing.

Judicial Commissioner Scott M. Gordon put his foot down after the last postponement in February telling the attorneys that because of the high-profile nature of the case and its platinum plaintiff, there would be no continuance beyond April 18 if the two sides couldn't reach a deal. Accordingly, the attorneys were told to prepare for Friday's session as an evidentiary hearing.

Shizawa's attorney, Simon Robert Hiller, has maintained that his client has been mislabeled a freaky stalker, when in fact the intimate letters, photos and unsolicited visits were the actions of an "avid fan" and said the request for a restraining order was the result of a "cultural misunderstanding."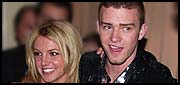 Britney & Justin: Love Chain
From the first kiss to the last.
Premieres: April 21, 8 p.m.
Since Spears filed the request last December, ordering the Japanese fan to stay at least 1,000 yards away from her, Shizawa's visa has expired and he's been forced to return to his hometown of Yokohama, Japan. Hiller, who called his client a "smart guy," said the computer programmer hopes to return to the U.S. once his legal woes are resolved.
The 41-year-old had allegedly been stalking Spears since September, tracking her from Los Angeles to Louisiana and sending her hundreds of love letters and photos.
Shizawa has also made "numerous attempts to contact" the pop chanteuse at her Los Angeles digs, even trying to bust into the popster's palace, her lawyer previously claimed. He's also "tracked her" to her divorced parents' Louisiana homes, as well as her other domiciles across the country.
By settling the case, Spears is freed up to focus on her other legal battles.
Last month, a celebrity endorsement deal with Skechers went sour when the shoemaker filed an $11.3 million countersuit against Spears for fraud and breach of contract in connection with a troubled line of signature skating merchandise.
The legal action was in response to Spears' own $1.5 million lawsuit filed in December claiming the company misappropriated her image to promote its regular roller skates, instead of her special line Britney 4 Wheelers. In turn, the L.A.-based company accused Spears of costing them big bucks when she held up production on the Britney blades.
Then earlier this month, Spears was sucked back into the problems of her now-shuttered eatery Nyla when court documents revealed the ill-fated restaurant owed more than $350,000 in unpaid bills. While the singer's reps have insisted their client sliced and diced any ties to the join long ago her name still appears on the restaurant's liquor license.