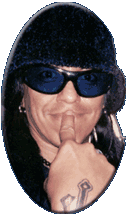 Randy Castillo,
December 18th 1950 - March 26th 2002
Rest in Peace. In our Heart, You'll Always Be...

---
I met Randy few years ago & I am glad to have had this chance, because he was one of those people that reached out to me & touched me. He wanted to share his art with the world. From this, www.fcukingcontagious.net appeared on the internet & will continue to be, I guarantee. Thank you Randy to have been such an inspiration to me, I will miss you. Bless your soul to rest in peace.
Good Bye. Ce n'est qu'un au revoir...
Nathalie Salome

---
Randy Castillo Memorial Show, A tribute concert in honor of Randy Castillo's memory at the Key Club in Los Angeles CA 04/29/2002.